Deliver a 'wow' impact through digital specialty enhancements With new specialty dry inks White, Clear, Silver and Gold, you can now print special effects all in one pass, at a cheaper price.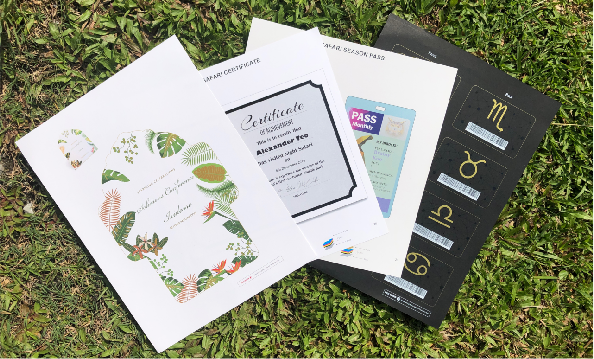 Watch what our machine can do:
Metallic Underlays create shiny and glittery effects.
White underlays enable you to print on any coloured and even transparent materials.
Clear overlays allow spotted embellishment effects for logos, graphics, patterns and more.
Email us at weigary@gmwprints.com for enquiries and guidance on this new experience!
Media: Laser Matte Opaque Film 200DS
Underlay: Silver + CMYK + Overlay: Gold
Media: Silk Coated 280 gsm
Underlay: Silver + CMYK + Overlay: Clear
Media: Touche Soft Touch, Sterling 300 gsm
Underlay: White + CMYK + Overlay: Gold, Silver & Clear
Underlay: Gold + CMYK + Overlay: Clear